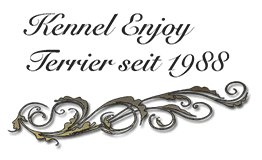 Herzlich Willkommen auf der Homepage
der Border Terrier des Kennel Enjoy.

Sollten Sie sich für einen Border Terrier, der nicht aus jagdlich geführten Linien gezüchtet wurde, interessieren oder mehr über diese liebenswerte Rasse erfahren wollen, dann wünschen wir Ihnen viel Spass auf unserer Homepage.

Welcome to the Border Terrier
website of Kennel Enjoy Borderlimit.

If you are interested in a Border Terrier, who is not bred from hunting blood lines, or maybe just want to know more about these adorable breed in itself, we wish you a good time on our website.